Once you hear the rumble of a semi-truck heading down your street to deliver your brand new prefabricated house kit, your dream becomes a reality. Thoughtful planning is the key to beginning a successful kit home building process as soon as your house kit arrives at the build site.
Here's an overview of the delivery process, including the first steps in SIP home construction, followed by answers to common questions about shipping and delivery of your kit home.
Preparing for the Delivery of Your House Kit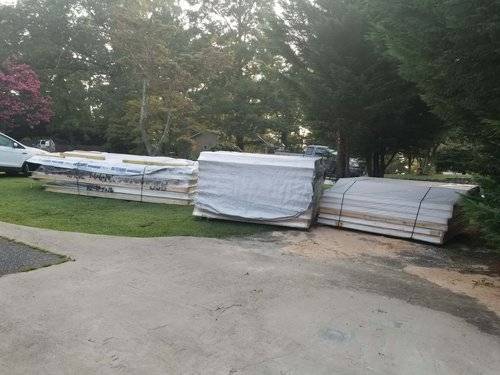 When the truck pulls up to your building site, you and your crew are on the clock. Typically, you will have two hours to unload the panels, and the trucking company will invoice you for any time over that threshold.
Before the arrival of the truck with your small house kit, you should have already obtained your building permits, which gave you legal permission to prepare your lot and complete your kit home's foundation, including the bottom plate.
Depending on the size of the house kit model customers choose from Mighty Small Homes, they typically receive a combination of about 25-40 structural insulated panels (SIPs) for the walls and roof. Each SIP weighs about 120 pounds, but they are more awkward than heavy—two-to-four people can easily carry these panels.
Tip: When you unload your kit home's panels, place them in an area on your lot that is opposite from where you'll be placing your first walls. This makes maneuvering the panels during construction much easier.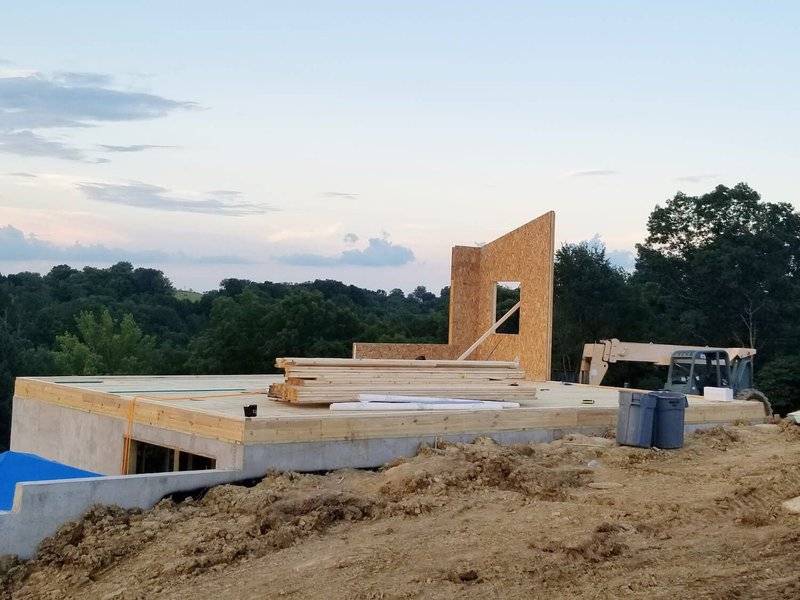 Once the panels are all unloaded, you can immediately begin placing the wall panels on your foundation, assuming the preliminary work has been completed.
Getting Started with SIP Panels
As soon as the panels are unloaded from your truck, you can begin assembling your new house kit with your building crew. Most kits from Mighty Small Homes can be under roof in 1-2 days.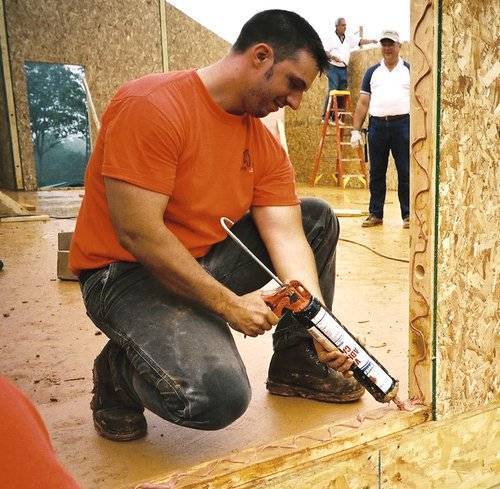 You should have all the basic construction tools ready, including a power saw, power drill, level, and hammers. Our hme kit packages include all the fasteners and special tools you need for working with the structural insulated panels.
Look over all the panels and your plans (again) to identify and match the numbers marked on the wall panels. You'll start with W1 and W2, which are corner panels.
Once these walls are up and stable, your crew can begin following your plans to install the remaining numbered panels.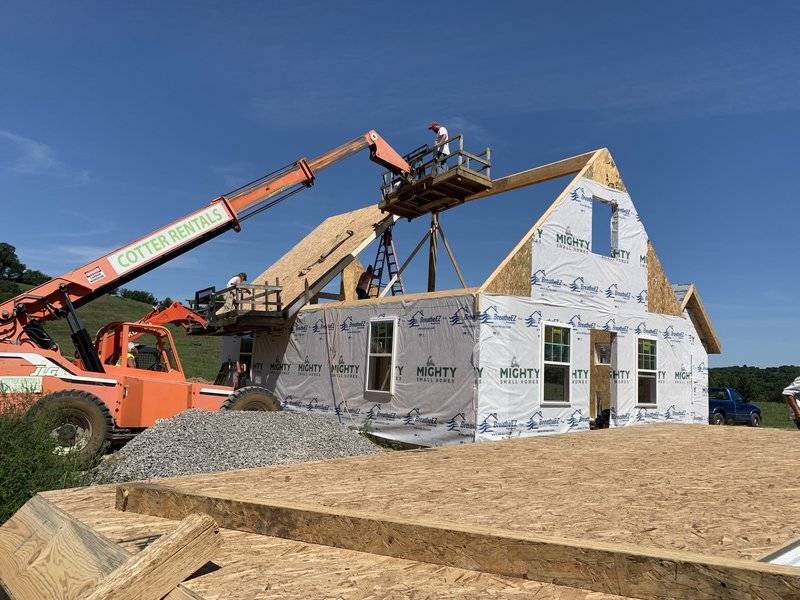 When it comes to installing the ridge beam (only required in certain models) and roof panels, we advise that you plan on budgeting for a hydraulic boom lift. While it may be possible for your crew to complete this stage of the building process by carefully using ladders, using a lift will be both faster and safer.
Shipping House Kits to Remote Building Sites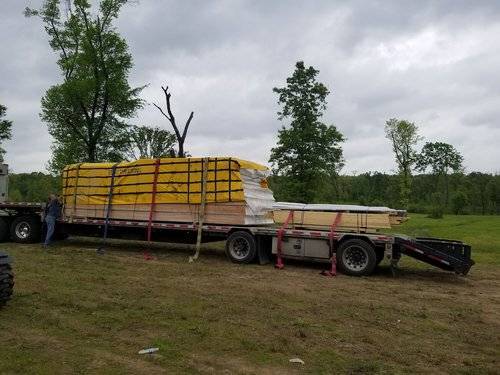 Rural or primitive locations may not be accessible for the semi-truck that delivers your house kit. If your home can only be reached via narrow, unpaved roads with sharp turns, it may be too unsafe for a truck driver to safely navigate. Similarly, a truck should be able to turn around if the road deadends.
Without access for the truck, you may need to move the panels yourself from a drop location using a pickup or flatbed truck. Be sure to factor in the need to protect your panels from inclement weather if a rainstorm rolls in during your delivery window.

More from our How to Build a Small House Kit series:
How to Build a House Kit, Part 1: Getting Started
How to Build a House Kit, Part 2: Choosing Land
How to Build a House Kit, Part 3: Choosing a Foundation
How to Build a House Kit, Part 4: Choosing the Best Home Kit
How to Build a House Kit, Part 5: Permits and Building Codes
How to Build a House Kit, Part 7: Assembling Your House Kit (coming soon)
How to Build a House Kit, Part 8: The Finishing Touches (coming soon)
Common Questions About Kit Home Shipping and Delivery
Once the production deposit has been made, you will receive a notice about when we estimate your prefab house kit will be complete. This can vary depending on the options you ordered. We will notify you again once the house kit panels have been produced and are ready to ship. From there, we will coordinate with you or your builder about the possible delivery date. We never ship a home kit package without first confirming someone authorized by you will be there to unload it.
Truckers are not generally known for "calling ahead." We typically load the truck the day before delivery with arrival around 8 a.m. We will notify you when the truck leaves the plant so you can be ready to unload the house kit the next morning. They will generally call ahead if there is a problem and they think they may miss a delivery.
Typically not. We can request a date and time, but we generally see the best results when kit homes are delivered first thing in the morning.
No, it is not common in this industry to tip the truck driver.
Most over-the-road drivers own their own semi-trucks. If your road or driveway looks too risky to navigate, or if the trucker thinks he'll have an issue pulling out once the kit is delivered, he can tell you that he's not going any further. In that case, you would have to unload where he stops and then move the kit package to your building site. This is rare but does happen.
We recommend renting a forklift to unload the truck. It is much safer and faster. Without a forklift, the time it takes to unload the panels depends on the number of panels. You and your crew will need to move quickly, especially for the larger models with about 40 panels. You have two hours to unload the truck.
We load your kit package onto the truck in a way that maximizes space and provides the safest load design. Within each stack, the SIPs will be close to the proper order.
Carefully examine the access roads that lead to your build site. Make sure you have 14 feet of vertical clearance along the entire stretch of those roads. That includes trees or overpasses. Keep in mind that a semi-truck and trailer have difficulty making 90 degree or really sharp turns. You can expect a truck to stop if he cannot make these turns. Have a forklift with at least 5-foot-wide forks to unload.
A typical single panel is about 5 pounds per square foot, meaning a 4'x8' panel will weigh about 160 pounds. The panels are loaded on the truck in stacks four feet high.
For our smaller house kits, there are typically about 23-30 panels. A larger house kit will typically include about 32-38 panels.
The panels will be protected upon arrival. We do recommend placing a tarp over them if you think they will be sitting for a while.