Forget reality shows. In the real world, house flipping isn't as easy as it looks on TV. Time delays, budget overages, unforeseen structural setbacks, government regulations, and crew availability can all put you off-schedule and eat into your profits.
Due to these and other serious risks, a lot of house-flippers are instead choosing to replace old houses with new homes using prefabricated house kits, like the prefab kits offered by Mighty Small Homes.
Potential Benefits of Rehabbing Old Houses
Potential to make a profit. If things go well, there's money to be made
Personal/Professional development. You'll learn to delegate, manage time, and hold people accountable
It's rewarding. Rehabilitation breathes new life into old homes and neighborhoods
Benefits of Building New Prefab House Kits
It's Predictable. Easier to budget and be on schedule (no surprises)
It's Faster. Get under roof in 1-2 days and completely finished in as little as 6-12 weeks
Less Skilled Labor to get under roof. A small crew of 2-4 handy people can get the job done
It's Flexible. Every Mighty Small Home can be modified to fit nearly any size lot
How To Identify A Successful House To Flip
Quick tips to help you find a fixer-upper that's worth your house flipping efforts:
Look past cosmetic issues when they are not structural. If a house looks worse than it actually is, it's probably a good pick.
Look for other investors. Neighborhoods that are gentrifying and have new businesses moving in are a good place to find potential flips.
Make sure the house you're looking fits the 70% rule.
What is the 70% Rule?
The 70% rule states that an investor should pay 70% of the After Repair Value (ARV) of a property minus the repairs needed.
Example: If a home's ARV is $150,000 but it needs $25,000 in repairs, then the 70% rule says investors should pay $80,000 for the home.
But beware – these numbers can make many possible house flips seem like a great deal, but you should factor in all the unknown costs of a fix and flip, setting aside money for common setbacks that add to your costs.
House Flipping in 2022, By the Numbers*:
Average time to flip nationwide:

192 Days

Median price of houses sold:

$282,000

Median purchase price:

$197,000

Gross flipping profit:

$67,000

(this does not include repair costs and costs associated with buying and selling the property)
(*Source: ATTOM Data Solutions. External Link. Opens in new window.)
Interested in building new for your next flip? Get a quote for one of our kits
A Mighty Success Story: Building New In An Established Neighborhood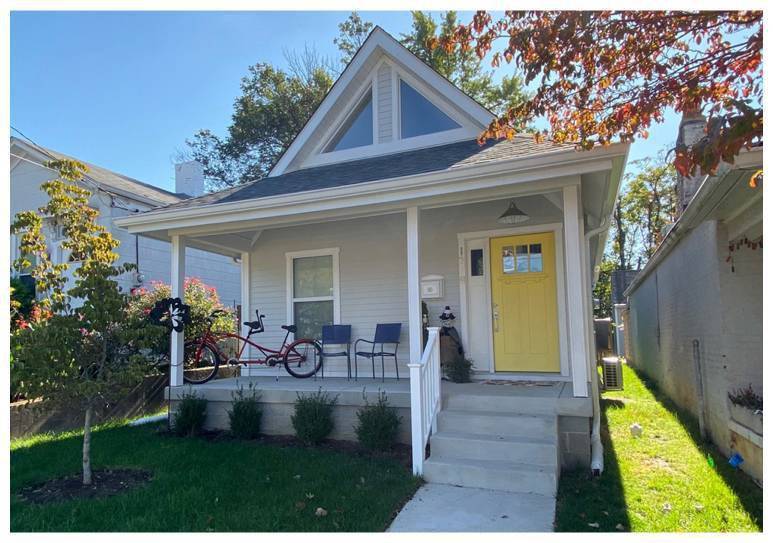 A rehabber in Louisville, KY built a 1,146 sq. ft. Mighty Small Homes Cottage model on an infill lot in the popular Irish Hill neighborhood, close to Downtown.
Fortunately, the project had few surprises, and after accounting for all building costs, it managed a profit of $70,000. The selling price? $269,000. The cost? A custom Cottage kit ($33,500) + land and high-end finishes came out to $200,000.
Project Highlights:
Included high-end finishes because of urban location
Sold quickly despite being $96 more per sq. ft. than other homes in area
High-performance features: Energy Efficiency, Extreme Weather Protection/Safety
Insurance costs for buyer were 50% less because of new build
Project Challenges
Helping buyers understand the higher initial cost of a High-Performance Home vs drastic energy savings over time
Building Regulations changed, requiring an additional rail to be included on stairs. Not a big deal.
New to Flipping Houses?
No hidden mold. No plumbing overhauls. No budget-busting surprises. No matter where you plan to build, you can build quickly and efficiently with Mighty Small Homes.
Interested in flipping a small house kit? Choose the right company.
Many prefab home companies have builder programs that make it easier for builders to build and sell their home. Here are some of the questions you should ask:
Do they use premium building materials? Make sure everything they offer is top-notch and not builder grade.
Do they offer engineered floorplans that can be customized? If you're building on an infill lot, you may need to make size adjustments. Look for a company that can provide custom plans.
Do they offer exclusive builder pricing? A good company will work with builders.
Do they provide sales leads or offer marketing support? Look for a company that can supply you with advertising, sales aids, and advice on marketing.
Do they offer construction training and support?
If they offer all of the above (as Mighty Small Homes does), you're in good hands.
Enjoy faster, more predictable builds with Mighty Small Homes
For many, house flipping is a labor of love. Taking something old and making it new again gets in their blood. But when it comes to real estate investment, mixing in a fast, predictable, and structurally superior premium small home kit from Mighty Small Homes can be a great option.
If you're a builder looking for an alternative to house flipping, Mighty Small Homes has six kit models that can easily be customized to your specifications.
Want a prefab kit to build for your next flip? Contact us and get a quote.