Since we started Mighty Small Homes, our small home kits have had a few things in common:
First, they're small. While we've designed bigger custom homes, our largest standard model is 30-by-40 feet.
Second, they're all single story. Although many buyers decide to add a loft, it's completely optional.
And finally, they don't have an attached garage.
With our new Carriage House model, we tossed all that out the window–a second-story apartment window, to be exact.
This modern two-story house kit started as one of our custom designs. A Mighty Small Homes customer had the idea to take our Modern model and turn it sideways, then raise it on top of a two-story garage.
READ: Watch for these red flags when choosing a builder for your home kit
Once we built the first of these two-story garage kits, requests started pouring in for more. That's when we decided to make the Carriage house kit a standard 18′ x 22′ model, offering 396 square feet of apartment space above the garage.
We think the name "Carriage" matches the romantic charm of this home kit design and the full range of possibilities it offers. After all, carriage houses have been a fixture in America for centuries, and there are still many ways homeowners find them useful.
Uses for Two-Story Garage Apartment Kits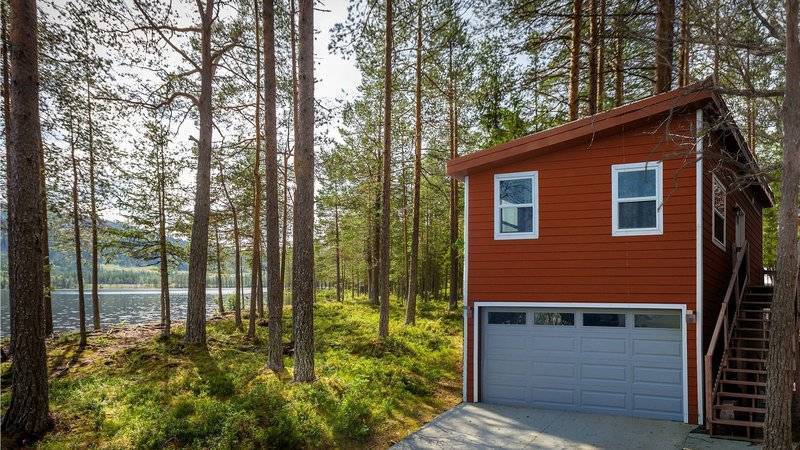 We expect that most Carriage house kit buyers will choose this prefab home for practical reasons, like wanting a guest apartment with a garage to store cars or tools, or simply having auxiliary living and storage space.
As a versatile ADU (accessory dwelling unit), the Carriage house offers more than adequate space to live, work or play and park your cars. Listing your Carriage house on Airbnb offers another option – a new investment home.
Explore how ADUs are perfect for short term rentals like Airbnb.
Other Carriage House Kit Ideas
Before you start building, be sure to check your local codes and zoning regulations because they're different in every community.
Start your New Home Project Today
If you're interested in a Carriage house kit or a custom model, reach out to us and we'll be happy to help!