Detached apartments. Guest cottages. Granny pods. Carriage houses. Coach houses. Mother-in-law suites. Two-story garages. No matter what you choose to call them, accessory dwelling units ("ADU"s) are gaining popularity with homeowners – particularly those interested in becoming short-term rental hosts through companies like Airbnb.
What Is an Accessory Dwelling Unit (ADU)?
An Accessory Dwelling Unit (ADU) is any secondary residence that occupies the same property or space as a primary residence. Just like primary residences, ADUs can vary in size, design, layout, construction, and amenities offered. Here's how the Bureau of Development Services in Portland, Oregon defines an ADU:
"A small, auxiliary dwelling unit on the same lot or within a house, attached house, or manufactured home. The unit includes its own independent living facilities with provisions for sleeping, cooking, and sanitation, designed for residential occupancy independent of the primary dwelling unit."
4 Reasons ADUs are Perfect for Airbnb Rentals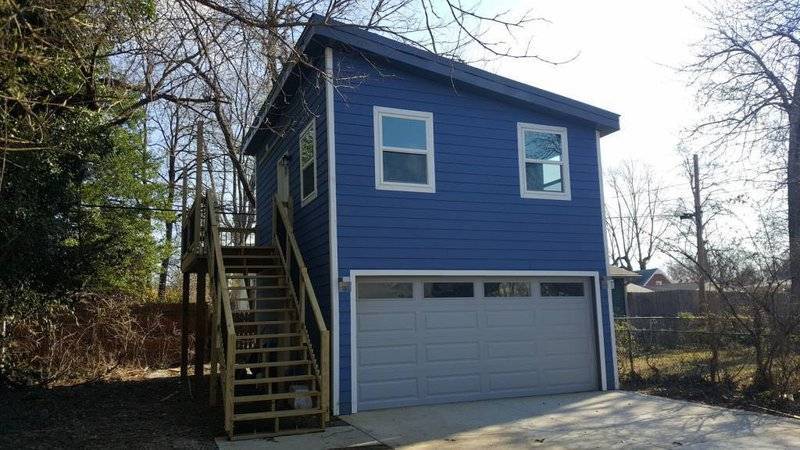 While zoning regulations for ADUs. External Link. Opens in new window. vary depending on your area, ADUs offer a lot of benefits to Airbnb hosts all around the country.
Since its creation in 2008, Airbnb has become a new source of income for those who want to host guests in their respective rental properties. Of approximately 650,000 Airbnb hosts worldwide, 38% of them are making between $100-$499 per month, while 22% of those hosts are making between $500-$999 per month.
Accessory dwelling units offer multiple benefits for short-term rental hosts:
1 | Profit
Since ADUs stand as independent living units, hosts don't have to worry about using their own personal homes as rental properties, which opens up more availability to host guests for longer periods of time. More Airbnb guests, of course, leads to more profit.
2 | Privacy
Hosts and guests can both benefit from accessory dwelling units by having more privacy. Since ADUs are separate units that include their own sleeping, cooking, and sanitation quarters, hosts and guests don't have to worry about coexisting and sharing these areas. Additionally, separate living spaces are often more attractive to those renting an Airbnb.
3 | Convenience
While some hosts have rental properties scattered all over, ADUs offer the convenience of being on your property. This obviously reduces travel time but also makes cleaning, general upkeep, and being an attentive host much more convenient.
4 | Versatility
Part of the beauty of having an ADU is the opportunity for a variety of uses. Accessory dwelling units are an addition to an existing property that can serve several purposes aside from just being an Airbnb house.
Accessory Dwelling Units (ADU) can be used for:
Rental property investment
Guest house for family or friends
Storage unit
Poolhouse
Workshop
Office
Studio
Benefits of Mighty Small Homes as an Accessory Dwelling Unit
Mighty Small Homes has a variety of kit home models that can be converted into your very own ADU. Whether you prefer the carriage, modern, ranch, cottage, or tiny, any of these small-home kits can be customized to build an ADU.
All models are flexible and feature a variety of benefits for those looking to build an ADU as an Airbnb rental property or for another use. Here are the benefits of building with Mighty Small Homes:
Lifetime Savings on Utilities
Mighty Small Homes are built using an envelope system with Structural Insulated Panels (SIPS) at its core. This envelope system allows our small and tiny home models to be airtight and 48% more energy-efficient than traditional, stick-built ADUs. As energy is used more efficiently, fewer utilities are used, ultimately leading to a lifetime of savings.
Durability
Each Mighty Small Homes model is composed of some of the strongest building materials on the market. The panels of our small and tiny home kits are secure, structurally stable, and able to withstand a Category 5 Hurricane. These durability features ensure the longevity of your ADUs and drastically reduce the amount of maintenance you'll have to encounter throughout your lifetime.
Customization
With five model kits (carriage, modern, ranch, cottage, and tiny), the opportunity for customizing a Mighty Small Home into the exact ADU you need is only limited to your imagination. All models come in varying sizes and can be customized if needed. Essentially, you have the ability to build your ADU exactly how you want, which can go a long way in the eyes of potential renters as well.
Ease of Construction
Prefab small home kits make the process of building an ADU smooth and efficient. Each Mighty Small Homes kit comes with pre-cut panels that eliminate waste and the need to measure and cut. Those who consider themselves handy have been able to get under roof in less than 24 hours. Being able to build quickly, efficiently, and without the need of a large crew saves hosts precious time and energy.
Accessory Dwelling Units as Airbnb Rentals Make Perfect Sense
It's easy to see why so many people are considering building ADUs as Airbnb properties. They're profitable, convenient, versatile, and give you privacy.
If you're already a homeowner and looking to add an ADU to your property, or if you're considering building a home with an ADU on your property, consider using Mighty Small Homes. Our small home kits are perfect for ADUs, allowing you to rent them out for Airbnb guests, use them for storage, temporarily house your mother-in-law, etc.
Reach out to our team to learn more about building an Accessory Dwelling Unit.