Building with Structural Insulated Panels Requires Less Skilled Labor
May 13, 2019
The skilled labor shortage in the housing industry continues to rise, despite an improving economy. According to a report from the National Association of Home Builders, 84% of builders reported seeing a shortage in labor availability in 2018. In turn, that drives up the costs up to 83% and making it difficult to complete projects 73% of the time.
That number has risen every year since 2012. This scarcity in skilled labor has led to higher costs across the housing industry and higher home costs overall. In the last five years, median home prices have risen 30%.
The Traditional Choice: Stick-built and Modular Homes
The cost of traditional stick-built homes, unsurprisingly, is significantly affected by labor availability. Stick-built homes are assembled entirely on-site. Walls, roofs, and floor trusses must be framed out on the home's permanent foundation. The process is extremely labor-intensive and usually expensive.
Modular homes are a popular alternative to stick-built homes, but they also remain expensive. These homes, constructed almost entirely off-site, are pre-built. Walls, floors, and roofs are pre-joined together, and plumbing and fixtures are already installed. The pieces are shipped separately and placed together on the home's foundation. Although modular homes reduce the labor cost, they have extremely high shipping costs (as whole sections of your home have to be shipped to you, preassembled).
A New Choice: Structural Insulated Panels home construction
There is a happy medium between stick-built homes and modular homes: prefab panelized small home kits using structural insulated panels. These prefab homes built with SIPS, offer a clear solution to the skilled labor problem. By moving some construction phases to a factory, building companies become far more efficient and can pass lower costs on to the homebuyers. By assembling the prefab panels on-site, the building process moves faster and requires less skilled labor. Many homebuilders build their house kits themselves.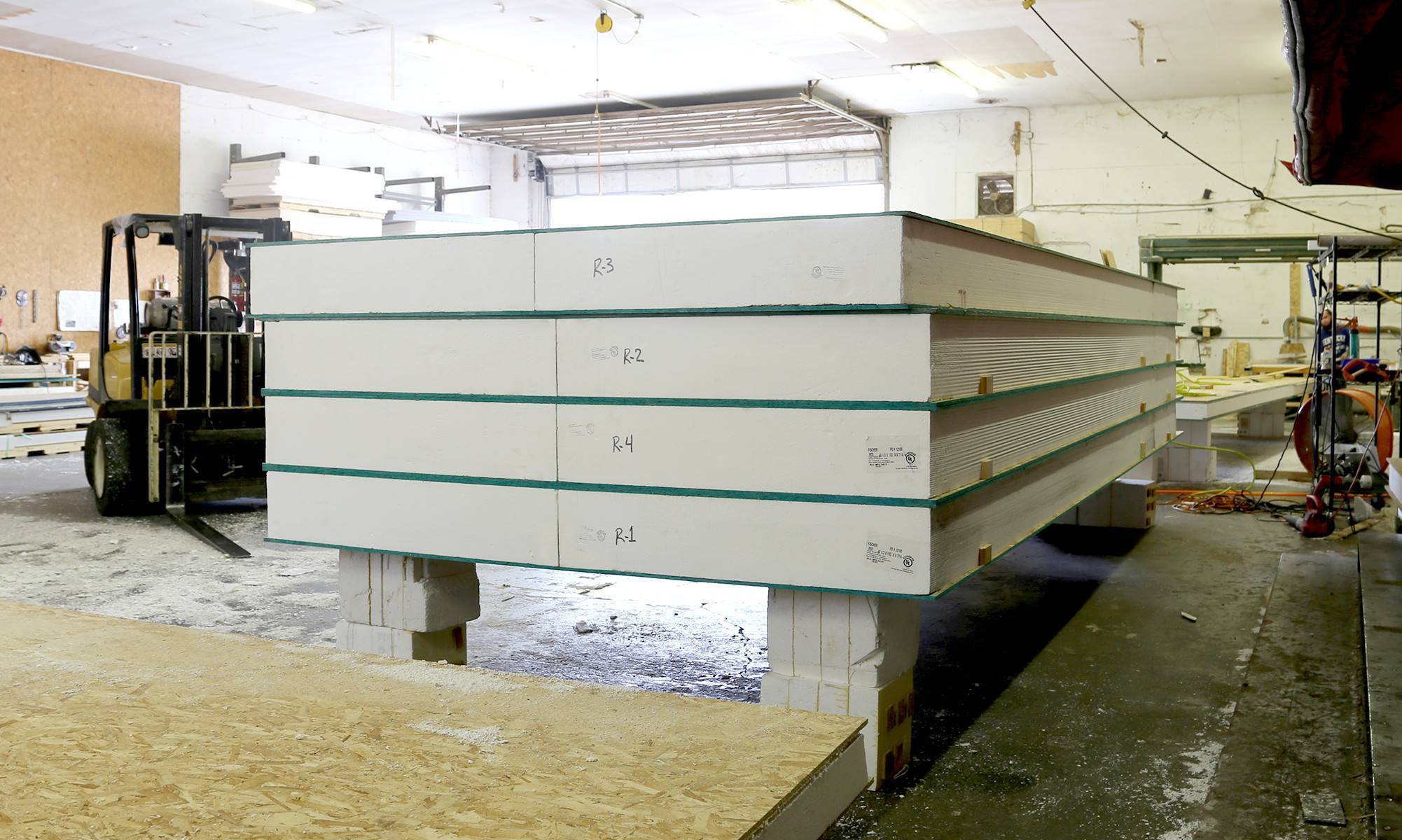 Homes built from structural insulated panels (SIPs) are one of the fastest-growing segments in the construction industry today and the most popular choice for panelized building. Although there are many good reasons to build with SIPS, the faster build time is one of the most frequently cited reasons.
Read More: SIPs contribute to sustainability by making homes more energy efficient.
A traditional stick-built house will be built one stud at a time, piece by piece. After the studs are erected, insulation and sheathing must be added. Panelized small house kits allow for a quicker build time by combining all of these steps into one. The product itself is a combination of framing, insulation, and sheathing. Additionally, the panels require fewer total pieces to assemble. SIPS can run as large as 8 feet by 24 feet. Essentially, 1 SIP panel takes the place of 18 studs, insulation, and sheathing.    
The difference between a panelized product and stick-built product are stark. SIPs offer six benefits over stick-built construction.
6 benefits of building a home with SIPs
Faster construction

Less skilled labor required

High energy efficiency 

Produces less construction waste

Superior strength
Greater long-term value
Modular homes solve some of these problems, but they remain expensive to build and ship, and they give you less flexibility in the design of your home.  Designing and building your own panelized home is all around the more time and cost-efficient option, and SIPs resolve many issues associated with stick-built homes. Panelized homes give homeowners the home they want, without making them break the bank with increased labor and housing costs. For instance, our small home kits are a panelized product that can be assembled in a week with a small team.
Comparison of Stick-Built vs. Panelized vs. Modular Homes
Below, we have compiled a table of commonly debated qualities and differences between stick-built homes, panelized homes, and modular homes.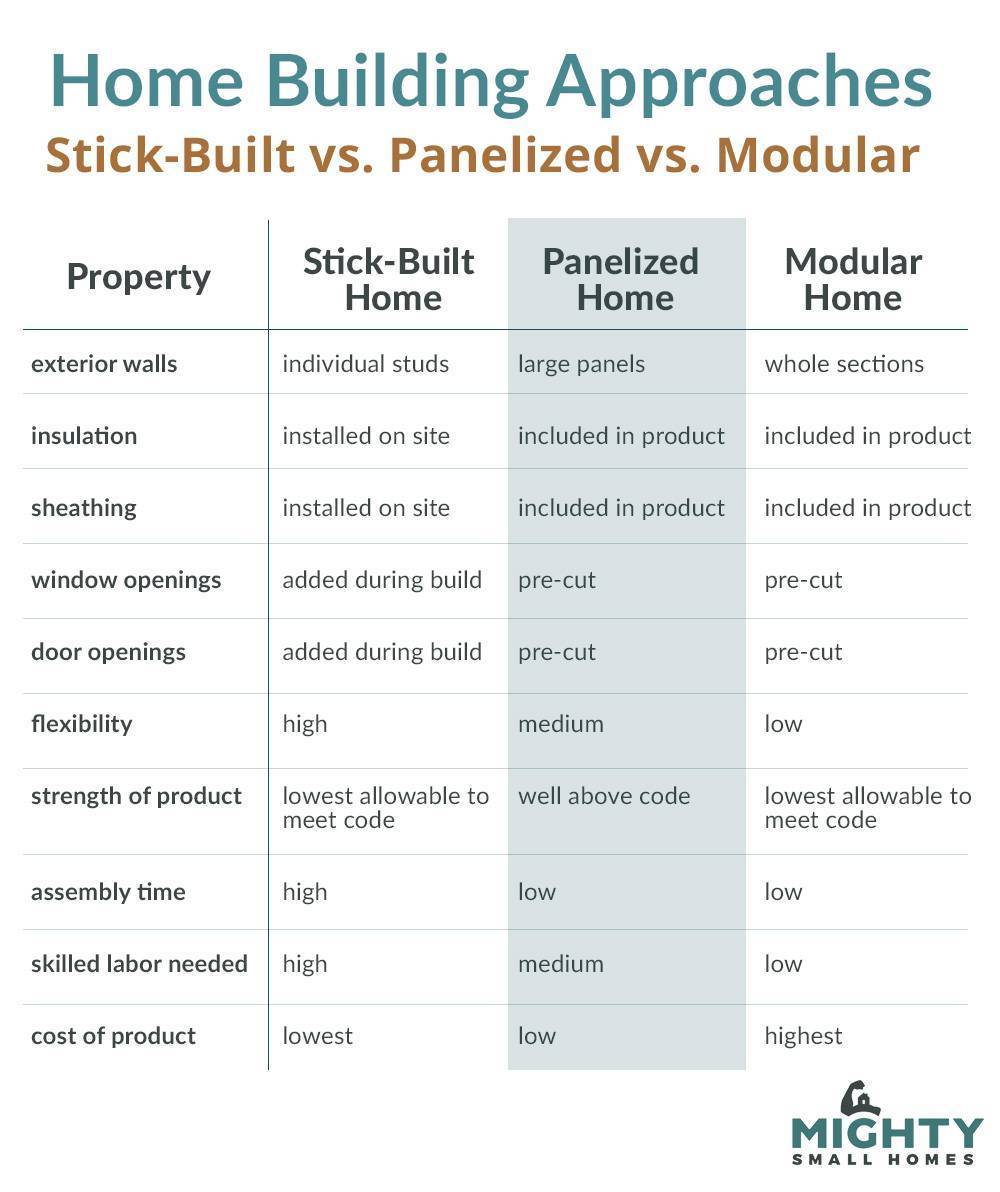 The benefits of panelized small-home kits are undeniable. The time, labor, and money savings, energy efficiency alone makes these hybrid homes a strong option. As the availability in the U.S. labor market remains low, homes built with SIPs will continue to grow in popularity.
---
Interested in using a panelized product? Reach out today to see how Mighty Small Homes can improve your home building experience.