Choosing the right roof can be crucial when building your own home. With so many different roofing options, it's hard to decide what style to choose. Which roofing material you want depends on your style, budget, and do-it-yourself experience. We've compiled a few of the options below. Check out the infographic at the end of this post to see everything collected together!
Asphalt Shingles
Asphalt shingles come in two varieties: Fiberglass and organic. Fiberglass shingles are made of a woven fiberglass base mat, covered with a waterproof asphalt coating, and topped with ceramic that shields the product from harmful UV rays. Because of the mat, less asphalt is needed to give the shingles their durability and strength. The results would be light in weight and thinner roofing materials. Fiberglass shingles also have a higher fire rating than organic varieties and generally carry a longer warranty. Fiberglass shingles were developed in the 1980s, but have quickly become the roofing material of choice for most homeowners and contractors today. Asphalt shingles start around $80-$100 per square foot.
Organic shingles are made with a base mat of formerly living organic materials such as paper(waste paper), cellulose, wood fiber, or other materials saturated with asphalt to make it waterproof. A top coating of adhesive asphalt is applied, and ceramic granules are then embedded. The paper-based nature of organic shingles leaves them more prone to fire damage.
Two Options for Asphalt Shingle Roofs
3-Tab shingles are a flat simple shingle with a uniform shape and size. They use less material; than architectural shingles, and lighter with a lower cost for installation.
Architectural shingles are thicker and stronger, and they have a more aesthetic appeal with their dimensional look with more shadow and varied shapes and sizes. Dimensional shingles will stand up better to the elements and offer less potential for leaking.
Tip: 3- Tab Shingles typically need to be replaced after 15-18 years, Dimensional typically last 25-30 years.
Pros and Cons of Asphalt Shingle Roofs
Pros: Inexpensive, easy to install. Asphalt shingles come in a variety of colors. Easy to tear down.
Cons: Excess UV light or moisture trapped beneath moss can cause shingles to break down. This will result in the edges and corners to curl up. Some roofs may not last long due to weather conditions.
Steel Standing Seam
Standing seam is a descriptive term for the vertical metal roofing system. Standing seam is one of the most popular metal roofing systems because of its beauty, durability, longevity, and bold look. By having a steel standing seam roof your home will have a modern style. Steel standing is energy efficiency. Standing seam is a high-end upgrade roofing style and widely used for many commercial, industrial, and even some residential projects. Standing seam has improved designs featuring concealed fasteners. Raised seams, with no roof penetrations, help minimize the chance of a roof leak down the road. Standing seam roofs are generally made from thicker grades of steel than corrugated steel roofs. A minimum of 26 gauge galvalume steel is used for manufacturing of standing seam panels. Standing Seam panels can be manufactured from coated steel, bare and painted aluminum, zinc copper, and stainless steel. The average cost of standing seam metal roofing is $4 – $6 per square foot.
Tip: If you live near a coastal area, it's a good idea to opt for an aluminum standing seam roof in order to prevent any corrosion and rusting, due to the high levels of concentration of salt in coastal environments.
Two Types of Steel Standing Seam Roofs
Galvanized Steel- Zinc coated steel is the most common material used for standing seam roofing. Galvanized steel provides durability, while the zinc coating protects against corrosion.
Galvalume Steel: It also has a corrosion-resistant coating of zinc-aluminum. Galvalume is more expensive than any other type of standing seam roofing material.
Pros and Cons of Steel Standing Seam Roofs
Pros: Many color choices, life expectancy of over 35 years, can be used on lower pitch roofs, reflective pigments available, interlocking panels, clip fastened varieties allow thermal movement, good for collecting clean water.
Cons: Can appear industrial or agricultural, require some installation skill, difficult to ship long distances.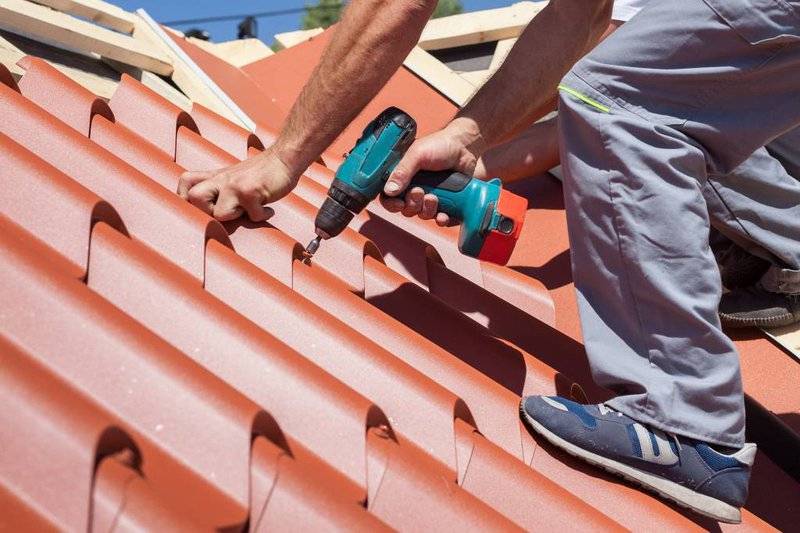 Aluminum Shingles
Aluminum Shingles are a great choice for tiny homeowners who are looking to install a metal roofing system on their homes. Aluminum shingles are lightweight but extremely durable. Not to mention they are a lot easier to install. You can also purchase aluminum shingles in a variety of different colors. The average cost for aluminum shingles is around $4-$6 per square foot. Aluminum shingles are energy efficient and also protect against snow and ice build-up. Most people don't know that aluminum has a solar- reflective material. Your tiny home will stay cooler during the summer. Aluminum is a sustainable roofing choice.
Tip: Most shingles lock together, the materials cost is rather low. You can make this your own DIY project to save money. You would need aluminum shingles, levels, roofing nails, ladder, hammer, safety rope, felt roofing( for insulation) and roofing cement.
Pros and Cons of Aluminum Shingle Roofs
Pros: Excellent for salt climates and damp climates, interlocking panels for wind resistance, low weight option at under 0.50 pounds per square foot. They are energy efficiency, naturally algae resistant, and easy to install.
Cons: Compared to asphalt roofing, aluminum shingles are slightly more expensive. Also, aluminum shingles do not last as long as other forms of metal roofing. On average, aluminum shingles are expected to last around 12 to 20 years, depending on the quality of the aluminum. Aluminum shingles have a smooth, slick surface, they can be extremely slippery when wet. They can also dull over time.
Wood Shakes and Shingles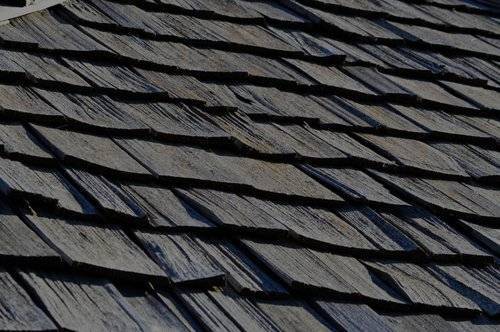 Wood shakes and wood shingles are manufactured from western red cedar, cypress, pine and redwood trees. Wood shakes are split from logs and reshaped by manufacturers for commercial use. They are thicker at the butt end than shingles. Wood shingles are sawn on both sides and have an even taper and uniform thickness. Wood shakes and shingles are more on the expensive side. Wood shakes starting cost is around $600-$900 per square foot and Wood shingles starting around $400-$700 per square foot.
Two Types of Wood Shingle Roofs
Cedar shakes and cedar shingles are pressure treated with fire retardants and chemical preservatives. They are fire-resistant and prevent premature rot and decay in some climates.
Pine shakes are made from southern yellow pine and are taper sawn. Pine shakes are pressure treated with preservatives to protect against decay and insects.
Tip: You should use caution when roof decks are constructed out of oriented strand board(OSB), Preservative-treated wood and fire retardant treated wood. Be sure to wear protective gear.
Pros and Cons of Wood Shingle Roofs
Pros: Natural beauty, low thermal mass. Fairly easy to install. Expected to last between 25 and 40 years. Also have natural insulating properties.
Cons: Collect and hold moisture, support fungal growth. Requires installation expertise. Will require repair with age. Also a potential fire risk.
Copper
Copper offers durability and adds character that no other metal roof can match. When properly installed, a copper roof can provide a long term roofing solution. It is low in maintenance and has a longer life span. By having a copper roof you would not need to paint it or add anything to it. Now you may be wondering what will happen to your copper roof in inclement weather. The warm bronze tone will turn into an elegant green patina finish. If you don't want your copper roof to turn a green color, there are ways to prevent this from happening. You can polish and buff, hand-rubbed(using No. 0 pumice with a nonabrasive pad), hand-applied sandblasted and conversion coating. Cooper is one of the most fireproof roofing materials on the market. Copper has a life expectancy of 50 years. Cooper roofing starting around $4-$15 per square foot.
Tip: When applying a copper roof be sure to make the deck is dry and smooth and free from any screws or nails. You want to have a smooth surface.
Pros and Cons of Copper Roofs
Pros: Offers durability and distinctive beauty. Has a high wind resistance. Copper will turn into a beautiful patina over time. Also available in shingle design with integral airspace for energy efficiency.
Con: Copper roofing can be noisy during storms. Also has the temperature and seasons change your copper roof can expand and loosen up.