For aspiring homeowners seeking a more affordable and sustainable way to own a new home, prefabricated homes offer high-quality options for new home construction at lower per-square-foot costs than traditional stick framing.
For those new to prefabricated building systems, prefab homes are built in a factory and shipped in pieces to be assembled onsite. In some cases, like with modular homes, prefabs are built almost entirely at the factory before shipping to the construction site.
Prefabricated house kits are more quickly constructed than traditional stick-built homes, and offer better energy efficiency in the long run. Prefab home manufacturers also offer bold, distinctive styles to choose from, based on your personal taste and needs.
Among all prefabricated housing options, SIP (structural insulated panel) homes stand out in particular as the best choice for kit homes that you can build yourself.
The Different Types of Prefab Homes
Prefab homes are primarily categorized into three kinds of housing based on the prefabrication method, typical materials involved in the process, or the design of the home:
Modular Homes
Modular homes are appealing to some homeowners and builders because adding or removing modules to change the look or square footage is a lot easier than it would be with traditional homes.
Typically, a modular home is built, section-by-section, in a factory setting and then loaded onto a truck and shipped to the construction site. These modules are then grouped together onsite.
Modular homes are also referred to as "factory-built" or "system-built" prefab homes. To avoid confusion, remember that a modular home is not the same as a "mobile" or "manufactured" home, which are commonly called "trailer" homes because they can typically be hitched to a vehicle.
Shipping Container Homes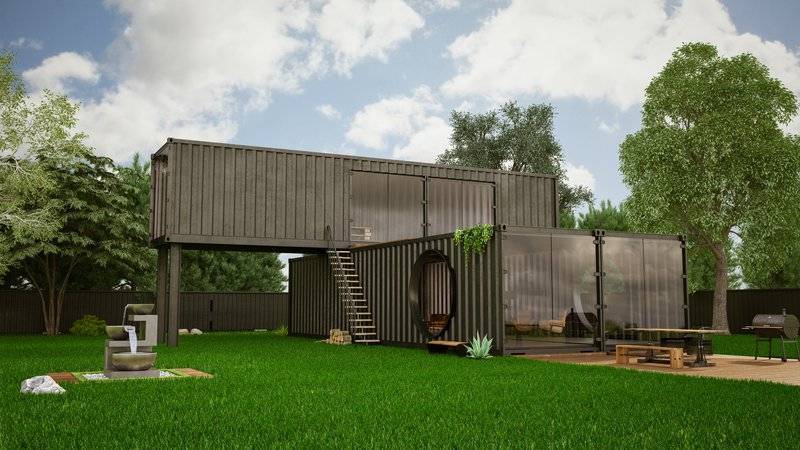 One type of modular home that has been getting a lot of attention lately is container homes. A container home is typically made from modified and customized shipping containers to form a home-like structure.
Shipping containers usually come in two sizes, either 20′ x 8′ (160 sq ft) or 40′ x 8′ (320 sq ft). Two heights are commonly offered, one regular height container (typically 8.5 ft high) or a "high cube" container that provides about a foot of extra vertical living space.
One appeal of a shipping container home is functional–its previous life as a shipping container usually means the shipping container home is much easier to load onto big trucks for easy transport, either when delivering the home to the building site or moving the container home to a new location.
Manufactured Homes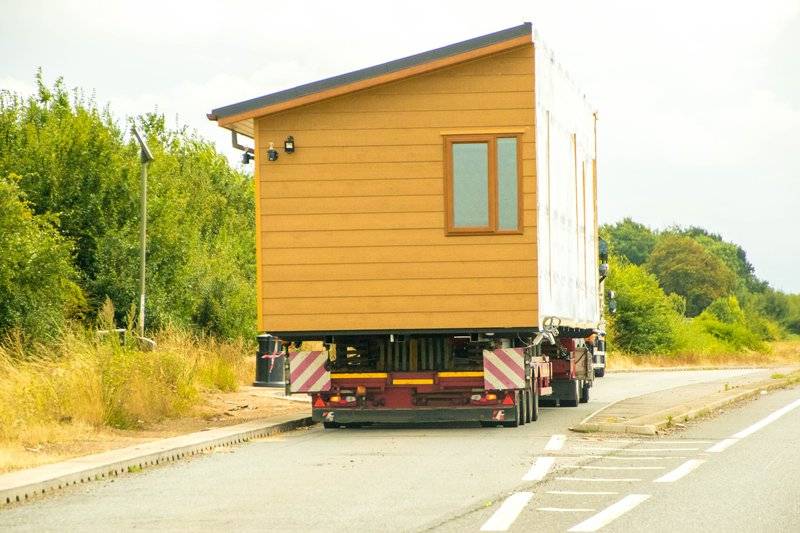 Manufactured housing is a home unit constructed primarily or entirely off-site at factories prior to being moved to a piece of property where it is set. The cost of construction per square foot is usually considerably less for manufactured housing than for traditional homes constructed on-site.
Mobile (or "Trailer") Homes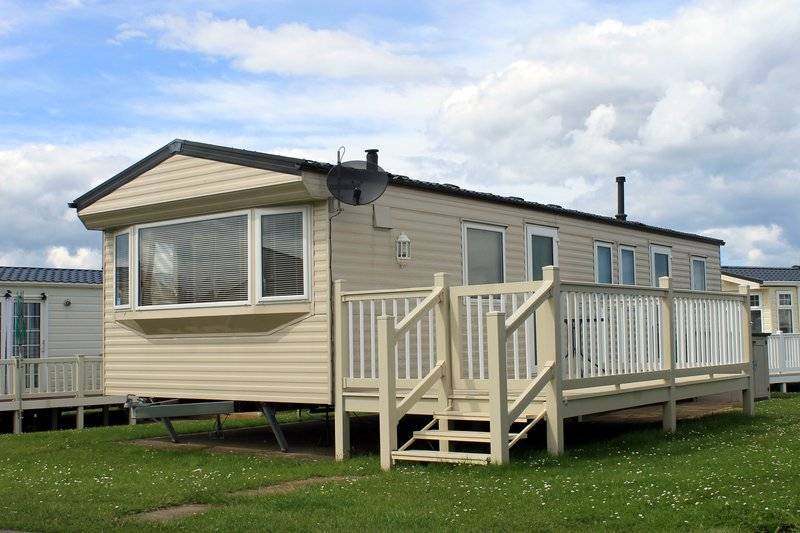 Mobile homes share the same historic origins as travel trailers. However the two are very different, along with furnishings. While mobile homes are more permanent homes, travel trailers are more often used as temporary or vacation homes. Behind the cosmetic work fitted at installation to hide the base, there are strong trailer frames, axles, wheels, and tow-hitches.
SIP Homes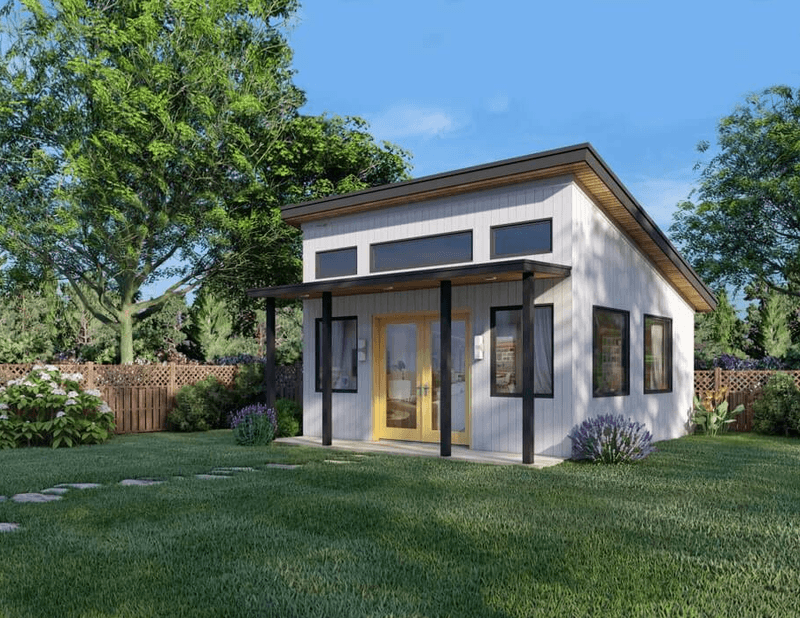 The most popular of all prefab homes these days are SIP homes made of Structural Insulated Panels (SIPs), also known as "panelized" homes. A panelized house kit typically includes a roof, insulated wall panels, and floor systems that are all first built in a factory, then delivered to the construction site for final assembly.
When building a panelized house, the foundation must already be laid first. Afterwards, the panelized walls, floors, and roof that were manufactured off-site can then be put into place on the foundation to finish building the complete house kit.
Why SIP Homes are the Best Prefab Homes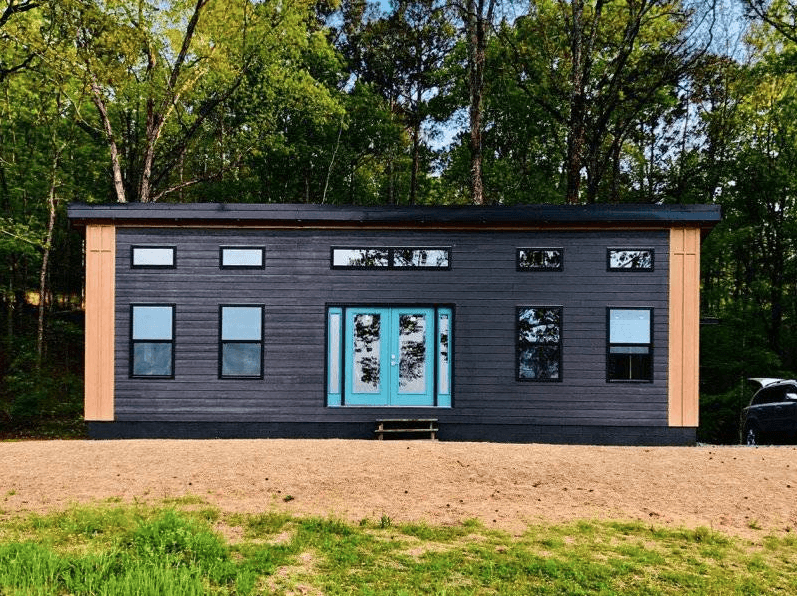 SIP panel home kits use strong, factory-assembled Structural Insulated Panels that make them highly-efficient. These SIPs make your homes airtight, improving air quality while also giving them the ability to withstand hurricane-force winds.
SIPs also make every prefab home 2-to-3 times more energy-efficient than traditionally-built homes. Also the walls are more insulated and less prone to air leakage, making them more energy efficient than other prefab home systems.
More Great Benefits of SIP Prefab Homes
Essential Checklist: What to Look for When Buying and Building a House Kit
Free Download

SIP wall systems are far more reliable and stronger than other prefab homes. When it comes to the strength of construction, it's hard to beat panelized homes. They're built in a factory and precision engineered to be airtight and strong. The strong panel system ensures that your prefab home will last generations and stand up to severe weather threats, including hurricane force winds and heavy snow.
SIP homes can reduce labor costs by around 55% from traditional homes while other prefab homes do not even get close to that number. The material price doesn't account for the labor savings afforded with SIPs construction. According to a study conducted by RS Means, building with SIPs can decrease framing labor by as much as 55% over conventional construction. Such a significant impact to overall cost ought not be overlooked when tallying up construction costs. Labor costs are further diminished because smaller crews can erect the structure.
Faster dry-ins for SIP houses results in saving time for home construction. While it does take time to unload and stage the SIP panels, the ease with which SIPs fit together makes it a less laborious and time-consuming process than stick-framing a structure. Overall, studies show an approximate 50% decrease in onsite construction time. Quicker construction also means the home can be ready for occupancy in a more timely fashion.
Shipping costs for SIP house kit materials are lower on average. Some container and modular homes take multiple shipments, while prefab home kits are transported to the building site in one easy shipment.
With Modern SIP home kits, you can assemble the kit yourself with minimum help as required. Unlike SIP building kits for do-it-yourselfers, other types of prefabricated homes require an expert or a contractor and an experienced building crew to complete assembly.
SIP panels create less waste going to landfills because much (or all) of the construction takes place in a factory, rather than cutting timber or other structural materials at the construction site. Lumber is cut by machine in the factory according to exact specifications, which makes the measurements more precise, resulting in less lumber being wasted.
SIP homes offer more design flexibility. Modular homes feature "modules" that are typically square-shaped or rectangular, which are then connected or stacked on-site according to the planned design. This means modular homes typically have a sleek, boxy look that is appealing to some buyers, but limiting to others. There is less flexibility for customizing the interior layouts of modular homes than for panelized houses, because every module is built in a factory according to plans with strict, standardized dimensions.
Get the SIP Home of Your Dreams
If you're looking for more flexibility and design options for both the exterior and interior of your prefab home, panelized kit homes can be built in almost any style or aesthetic you can imagine, and their floor plans can be easily customized with few limitations.
Mighty Small Homes offers a wide selection of SIP house kits, including standard kit home models and the option for customized floor plans to match nearly any lot size, dimensions, or interior layout that you desire.
Ready to build your own new SIP house? Contact us to learn more about our energy-efficient and American-made SIP prefab homes available for purchase.