Many people dream about living on or near the coast, but that can dream can quickly become a nightmare between June and November–otherwise known as Hurricane Season. Hurricanes are becoming more frequent and causing more damage to homes than ever before. The good news? Hurricane-resistant houses can be built quickly and easily.
Building Houses in Hurricane Prone Areas
For a house to withstand the impact of a hurricane, it must remain stable in winds that range between 74 and 157 miles per hour. Once the wind exceeds 64mph, you can expect structural damage. When building a house in a hurricane zone, limiting potential hurricane damage to your home comes down to three important best practices:
Best Practices for Building Hurricane-Resistant Houses
Secure the building to its foundation – Many revised building codes in coastal areas are requiring a continuous load path that directs wind down to the foundation.
Make the home impact-resistant – Installing impact-resistant doors, windows, and high-impact synthetic window shades all make your home more secure from flying debris.
Keep it dry – Sealants, waterproof membranes, rain-screen systems, and using mold and mildew resistant materials can keep rain and moisture out of the home or reduce the resulting damage.
Safe landscaping – Hurricane-force winds can quickly turn gravel, rock landscaping, or heavy yard ornaments into projectiles that can potentially cause serious damage to your home.
The Science of Building Hurricane Resistant Houses
Aerodynamic design – Circular shapes prevent high winds from applying too much pressure onto one part of the house.
Clear span roof (the distance between the two inside surfaces of the span support) – The greater the span, the higher the chances of failure. If your span is greater than 25', it will require supplemental bracing. The amount of overhang should also be kept to a minimum to reduce the impact of wind uplift forces.
Impact-resistant glass – Reinforced windows and shutters protect against wind, water, and flying debris.
Continuous Insulation – Cavity-free insulation–like the strong structural insulated panels (SIPs) used in Mighty Small Homes–resists wind and speeds drying.
Durable materials – Strong materials like bendable glass, framing lumber, and insulated concrete blocks all protect against high winds and debris.
Keeping the home dry by reducing moisture penetration – Keep moisture out of the home by using sealants, waterproof membranes, house wrap, and mold-resistant materials, like the foam-insulated panels found in Mighty Small Homes's prefabricated kit homes.
Financial Benefits of Building a Hurricane-Resistant House
In addition to the obvious benefits of having a home that will still be there after enduring a powerful hurricane, homeowners also benefit financially from building a hurricane-resistant house:
Lower insurance costs – Some hurricane high-risk areas like Florida legally require that hurricane-resistant homes be given discounts on insurance premiums. In Florida, hurricane deductibles are applied on an annual basis, so if you've already met your deductible for that year, the insurer can apply your normal deductible, which is significantly lower. Building a home that can withstand hurricanes will also reduce your insurance claims.
Higher resale value – If you live in a coastal area, selling a home that is designed to stand up to hurricanes can boost your home's resale value.
Want to build a hurricane-resistant house? Browse our strong prefab house kits
Are Hurricanes Getting More Intense and Dangerous?
The short answer is yes. Over the last two decades, the average number of high-intensity storms has increased significantly: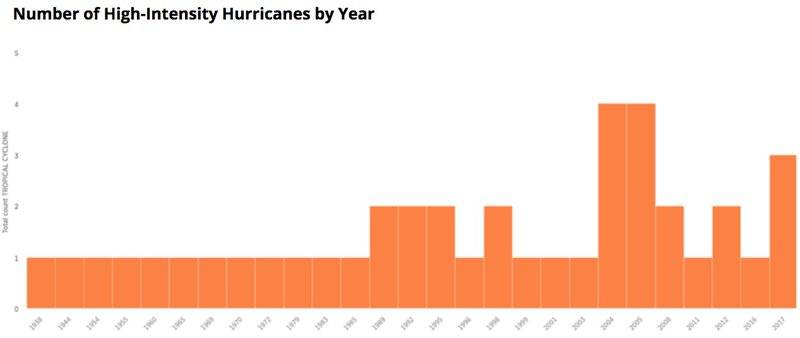 [Source: NOAA. External Link. Opens in new window.]
The cost of damage caused by these intense storms has also dramatically increased over the years: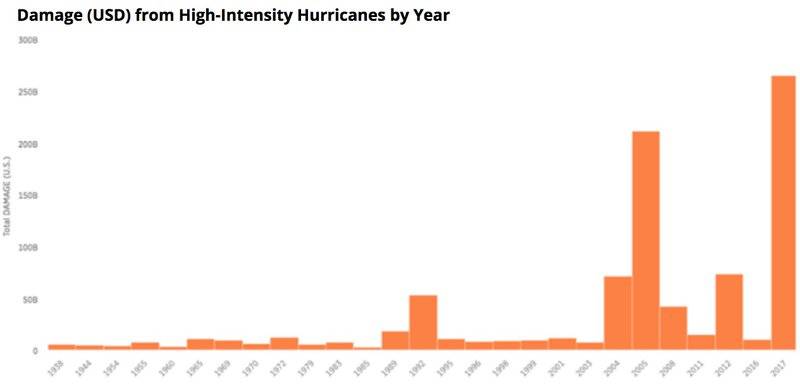 [Source: NOAA. External Link. Opens in new window.]
Is Climate Change To Blame?
No one knows for sure, but there is mounting evidence that points to a number of factors affecting the number and intensity of hurricanes that hit our coastal areas:
Higher Temperatures – The warming of the atmosphere and the upper ocean, which is tied to human activity such as burning fossil fuels, is contributing factor to the increased intensity and destruction of hurricanes.
Rising sea levels – A study by PNAS found that Hurricane Sandy probably wouldn't have inundated lower Manhattan if it had happened a century earlier because the sea level was a foot lower then.
How to Protect Homes from Hurricane Damage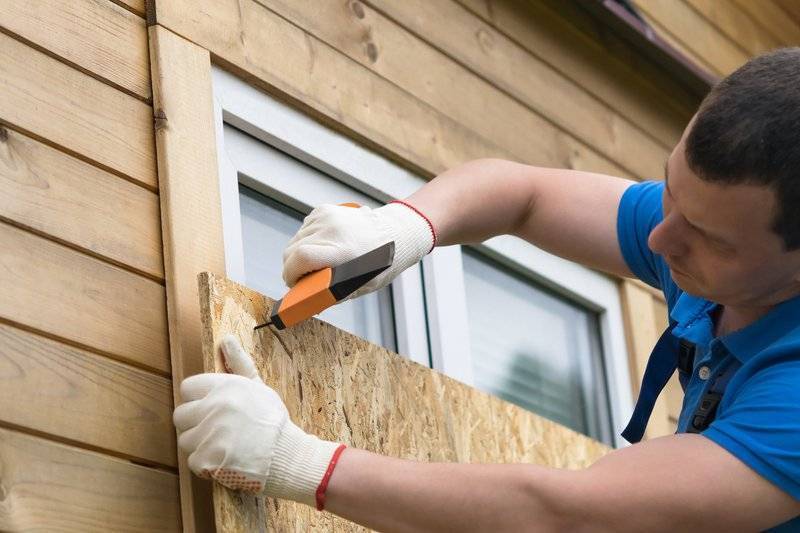 Hurricanes can cause serious damage to homes, even after the high winds stop and rain is still coming down. Here are some ways you can protect your house from damage that occurs during a hurricane:
Replace gravel or other rock landscaping materials with shredded bark or mulch, which is lighter and causes less damage.
Trim weak branches and rotting trees that could fall or be blown into your home.
Install storm shutters to protect your windows from breakage. When a storm is on the way, nail plywood over the windows.
Install hurricane-resistant doors that have at least three hinges and a one-inch deadbolt lock.
Make sure sliding glass doors are made with tempered glass, then cover them with plywood before the hurricane hits.
Replace old garage doors and tracks with a door that's been approved for wind pressure and impact protection. High winds coming through your garage can cause serious damage to your home.
Prevent water penetration by sealing vents and other openings into your home.
Secure boat trailers by anchoring them into the ground or to your house.
How SIPs Protect Prefab House Kits from Hurricanes
Not all prefabricated house kits are a great choice for areas affected by hurricanes. Mighty Small Home prefab house kits, on the other hand, are made with some of the strongest materials available, which helps them withstand hurricane force winds much better than traditionally built homes.

Every Mighty Small Homes house kit features strong Structural Insulated Panels (SIPs) that are designed to handle winds up to 150mph.
Why Aren't More Developers and Investors Building Hurricane-Resistant Houses?
Low Market Demand – Despite the devastation caused by hurricanes, many homebuyers often take a "that was bad, but it probably won't happen again" attitude when shopping for new homes. When homebuyers start demanding homes that can withstand hurricane-force winds, developers will jump on board.
The Building Industry is Slow to Adapt – A hurricane-resistant house typically adds about 7% to the cost of a typical build, which must be passed on the buyer. Once buyers learn that they can get that money back quickly due to their significant energy savings, most don't mind trading the cost for the added safety and security of building a hurricane-resistant the home.
Mighty Small Homes are Made to Resist Hurricanes
If you live in an area affected by hurricanes, building one of our strong, hurricane-resistant prefab house kits makes a lot of sense. Each of our panelized kit home models can be customized to meet your style preferences and climate needs.
For those seeking to rebuild following severe hurricane damage, know you can be under roof in a Mighty Small Homes house kit in 1-2 days and move in to your finished home in as short as 10-12 weeks. Interested in getting a quote? Please contact our team and we'll be happy to discuss your options.